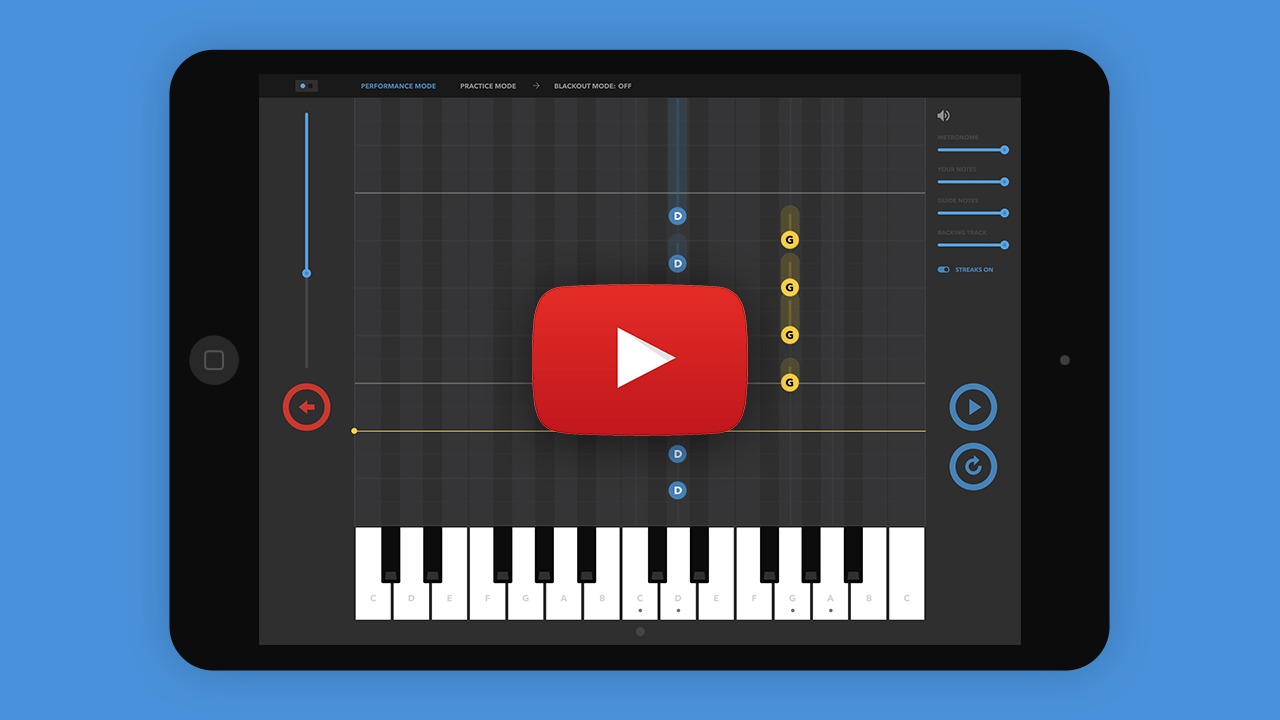 See it in action
All the fun, features, and functionality of the Melodics™ app – on iPad.
Extend the power of Melodics™, build better practice habits, and create your ultimate setup with Melodics™ for iPad.
As a Melodics™ subscriber, you can now take your practice mobile. There's no additional cost, you don't need to pay for the app, simply download it from the app store and log in with the same subscribed account you use in the desktop app.
All your lessons, courses, streaks, progress, and practice tools are waiting for you, just as they are on the desktop app. No compromises.
---
Extend the Power of Melodics
Get away from your desk - grab your instrument, connect via USB cable or Bluetooth, and you're ready to practice whenever and wherever inspiration strikes.
Melodics for iPad has all the features of the desktop app, so you can practice anywhere, without compromise.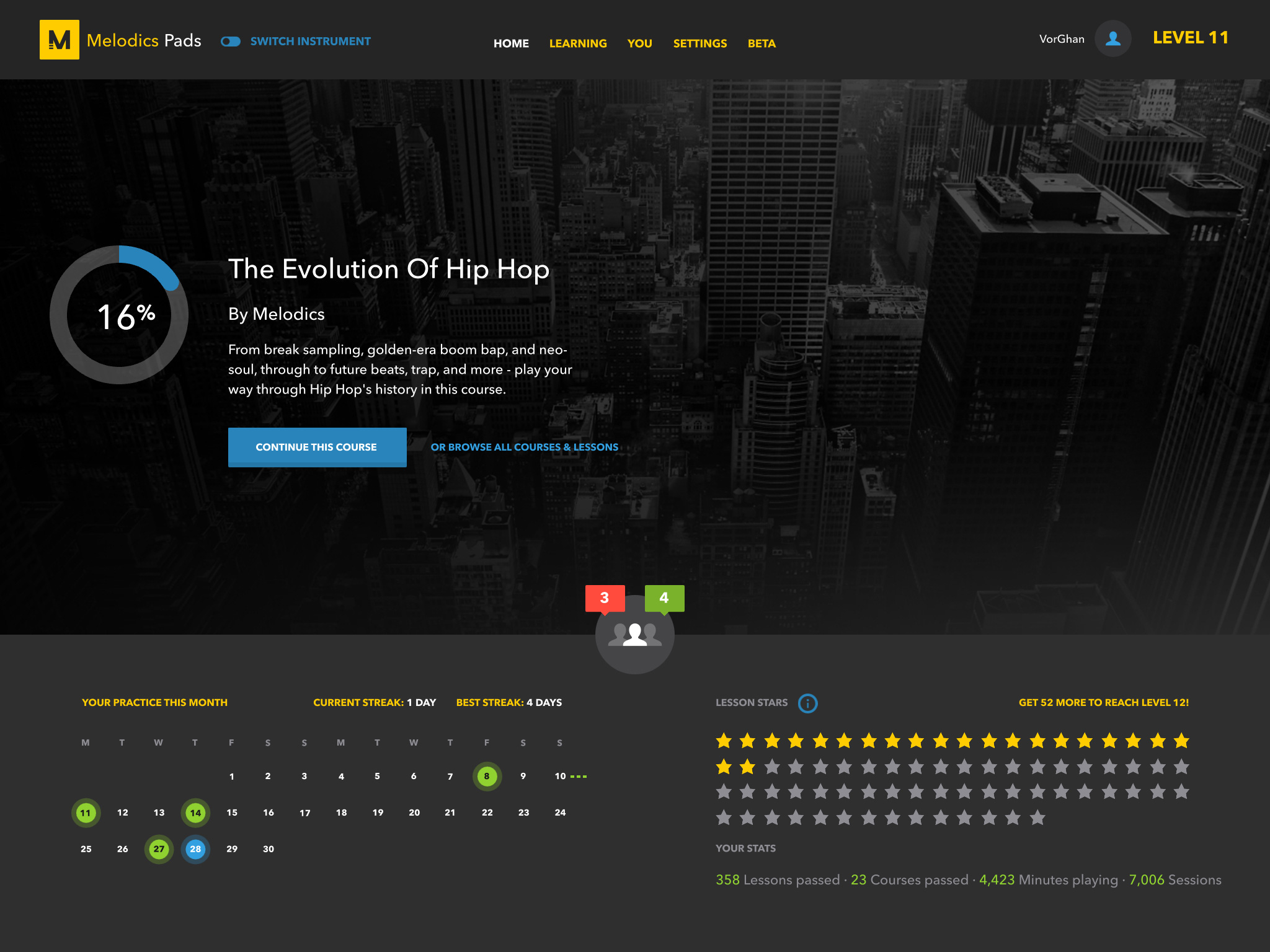 Build better practice habits
Are you on a streak, but don't have your instrument with you? You can still get your daily practice in with "Made for iPad" courses, designed specifically for playing directly on the touchscreen.
These courses are stripped-back to the essentials. Fewer tracks, but the full learning experience.
Create the ultimate setup
Practice with more freedom and flexibility. Maximise accessibility and keep Melodics within easy reach.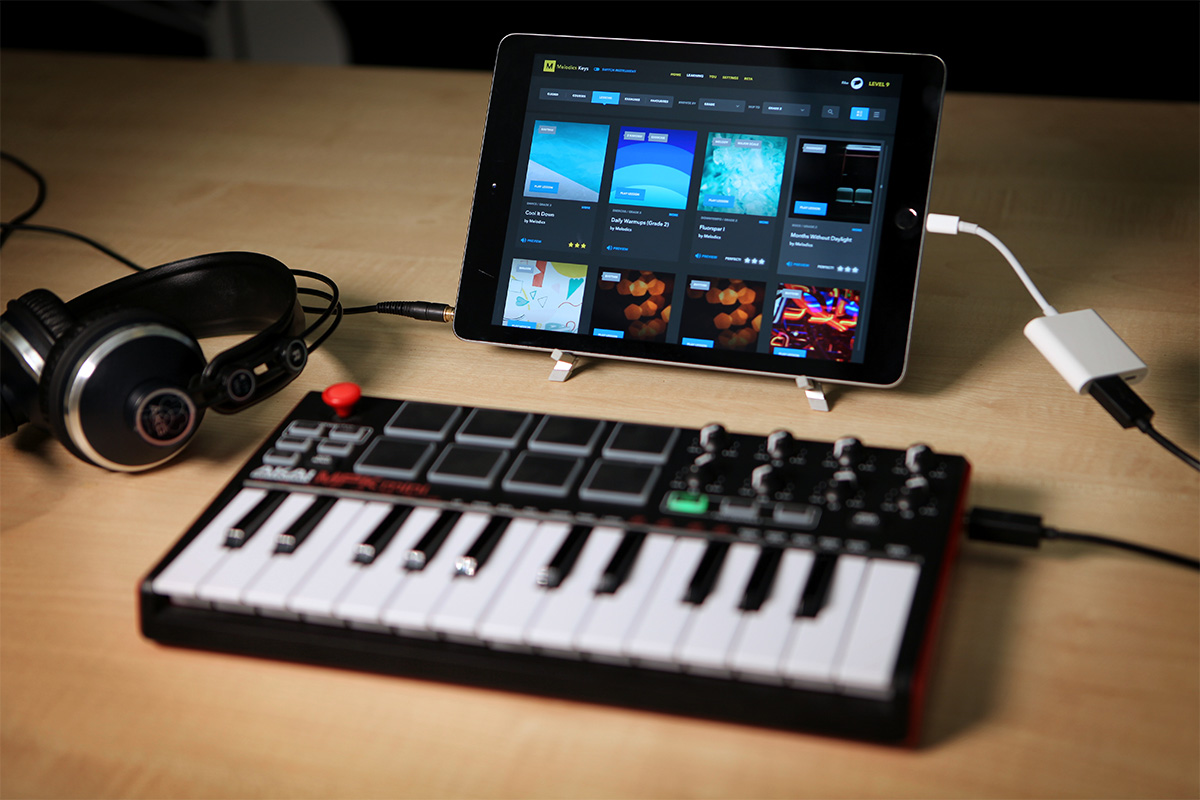 Early access for Melodics™ subscribers
We've been busy working on Melodics for iPad for a while now. We have big plans, and this is just the beginning.
Calling all Melodics subscribers – Melodics for iPad is available now as part of your monthly or annual subscription.
Grab Melodics™ for iPad below, or search "Melodics" in the app store next time you're on your iPad.
iPad Compatible Devices
Melodics on iPad works with many MIDI keyboards, MIDI pad controllers, and electronic drum kits. There are some devices however that aren't compatible with iOS (you may need to check the manufacturer's website to find out if your controller is compatible with iOS).
Click here to see a list of controllers that are compatible with Melodics on iPad.
Don't see your controller or kit on the list? Don't worry, check out our iPad connection guide to see if you can get it connected.
---
FAQs.
Can I create an account and subscribe through the Melodics iPad app?

No, you currently can't create an account and subscribe through the iPad app. This might be a feature we introduce in the future, but currently you need to create an account on the desktop app and be a current subscriber in order to use Melodics for iPad.

Is Melodics available on Android / iPhone as well?

No, Melodics is currently on available on iPad, Mac, and PC. We may look into Melodics on Android and iPhone in the future.

How much extra does Melodics for iPad cost?

There is no extra cost for Melodics for iPad. It is available to all subscribers as part of your ongoing Melodics subscription.

Why is this "early access?"

We've been busy working on Melodics for iPad for quite some time now. We have big plans, there's a bunch more we want to do, but we're at a point where it's time to get it into your hands! We're calling it Early Access because we're not done adding features yet, but it's super fun to use, and most of all - we want your feedback!

We've been through a period of thorough testing before launch, but it's still early days and you might find some bugs. If you do, please let us know.

How do I connect my MIDI controller to Melodics via Bluetooth?

Go to the 'settings' screen in the top navigation, find 'Connect a Bluetooth MIDI Device' under 'Connected hardware', click the 'Connect' button and follow the on-screen instructions. Check out our full iPad connection guide for more details.

I have an older iPad, what are the minimum specs you'd recommend?

Melodics for iPad is supported for all iPads currently supported by Apple. The oldest device on that list at this time is an iPad Air 2 running the latest version of iPadOS.

I've found some bugs, where should I leave feedback for the Melodics team?

Please head over to our support page to let us know about any bugs or feedback you have about Melodics for iPad, and thanks!