Level up your drumming in only 5 minutes a day
Unlock your rhythm with the only app that tracks performance & progress. With bite-sized lessons featuring your favorite songs, you'll dynamically improve your playing every session.

Try Melodics for free
Available on Desktop & iPad | Melodics is an education partner for: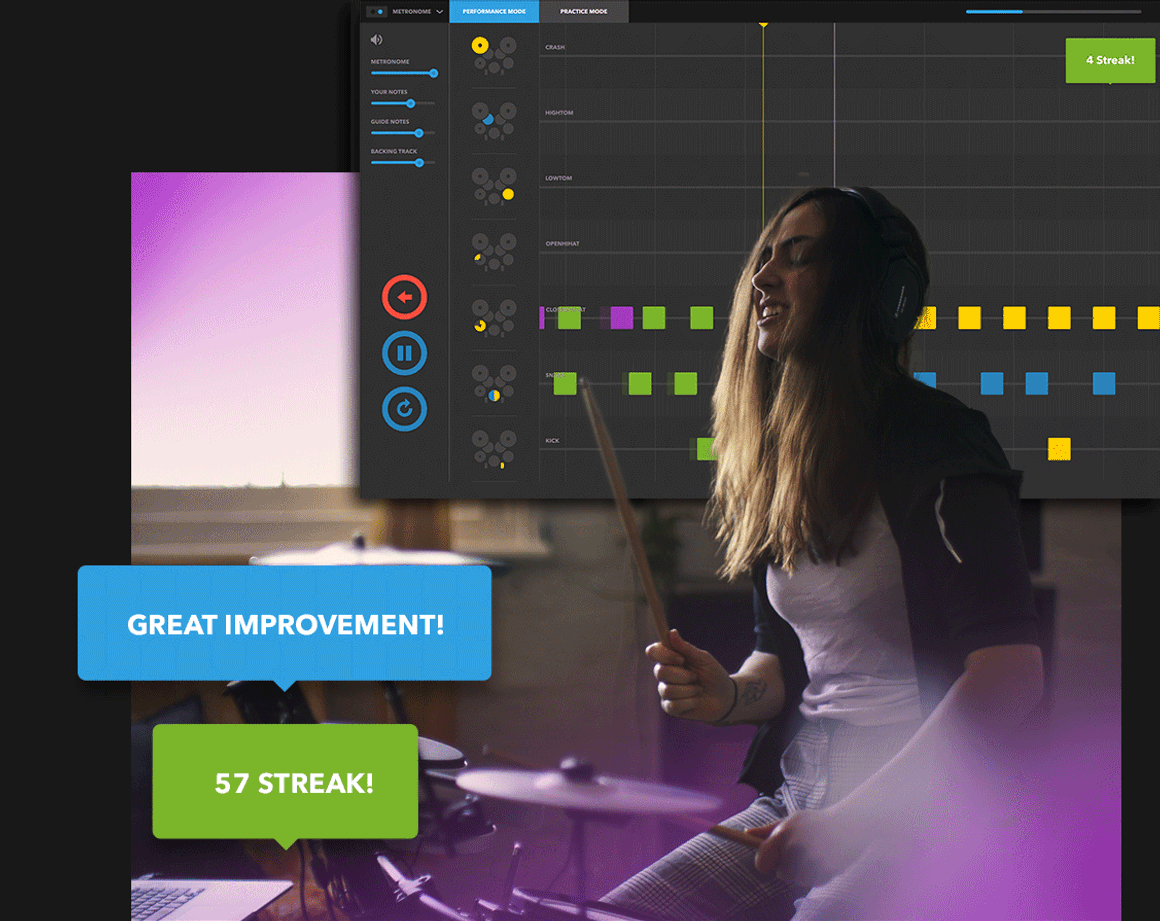 Your perfect partner for e-drums
Track every practice.
Build your precision with genuine insights and live feedback, and know if you're early, late, or right on time.
Clear guidance at every step.
Get a firm grip on the fundamentals with clear learning paths that build your skills step by step.
Commit to your kit.
Stick to a solid practice rhythm using motivational features and gamified learning tools.
Join 1,000,000 users getting more out of their practice.
Your drums were made to be played! Melodics equips you with tools and lessons that foster real-world, transferrable skills wherever you play.
But most importantly - it makes practice the most fun part of your day.
Try Melodics for free
Evolve the way you play.
Perfect your timing and measure your improvement, with the only app that gives real insights into your drumming.

Melodics translates technique and theory into a sleek, modern interface that shows live feedback as you play and tracks your progress across every session.
"I needed something that was a consistent way of tracking. With Melodics, I can self-guide."
RJ, New Hampshire, USA
Maximize your play time.
Quit doom-scrolling through endless video tutorials... and spend more time actually drumming.
Plug-in and play along to songs by your favorite artists, learn new techniques and rudiments or explore new genres. Melodics lets you focus on the fun while we amplify your progress.
"Easy to set up, great fun to use & really useful. Really basic to really advanced stuff, straight out of the box - no swearing when I set it up."
Stuart - Drummer, No Ordinary Fish, UK
Avoid commitment issues.
Did you know that 90% of beginner musicians quit in the first year? Don't become a statistic. Melodics users are 6x more likely to break through the commitment barrier and reach their goals.
Stay motivated with game-like courses that drum in the fundamentals, then turn up the volume for more advanced challenges.


Try Melodics for free
Master songs by your favorite artists.
Build your skills playing along to legendary songs from legendary albums. Melodics features the world's highest-quality catalog of popular tracks, with new lessons added weekly.
75% of new users nail a song within 10 minutes!
Try Melodics for free
Advanced features at your fingertips.
Take the pain out of practice with advanced tools that streamline your experience:
Comprehensive support & custom MIDI mapping.
Slow down difficult sections and loop the hard parts.
Master 'Memory Mode' and play perfectly away from the app.
Say goodbye to boring lessons.
Melodics provides clear learning paths or lets you choose your own curriculum across a huge range of courses.
Explore 500+ original tracks across 50+ genres.
Advance through 16 difficulty grades that develop your technique & style.
Jam out to your favorite popular songs with fresh weekly releases.
Get set up and playing in no time!
Get started now and complete your first lesson within five minutes of setting up.
No credit card and no upfront commitment.
Try Melodics for free
Join over 1,000,000 other musicians leveling up with Melodics
"Literally read my mind! Melodics cuts the learning curve so far down for practicing my covers — I just learned that in 20 minutes using practice mode."

MstRWood (Musician & Producer), United States

"If you're like me and had an electronic drum kit for 5 years in an apartment — something like Melodics would have been an amazing thing to have a decade ago!"

Ben Satterlee (@nashvilledrumcoach), United States

"My main goal is to have fun. I need time to relax and this is what the drums give me. It's a time I can enjoy and my mind goes somewhere else."

Alex (drummer), Catalonia
Melodics™ is a desktop app that teaches you to play keys, pad controllers & drums.
Simply download the FREE app. Start playing straight away.

2

Plug in & Play.

Compatible with most MIDI devices. Try your first lesson.

3

Get results in just 5 mins.

You'll get something from your first 5 minutes. Take it straight to your next track or performance.
Melodics is the best way to build your musical skills