Get the knowledge and skills that matter.
Collecting Records goes beyond just nailing your performance and delivery.
Getting 2 stars on lessons with a Record showcases and explains which musical skills, concepts, theories and methodologies you've actually learned as you continue practising through Melodics.
When you get 2x stars, you get a Record, it explains what you've learned and you can add it to your collection to keep track of your progress.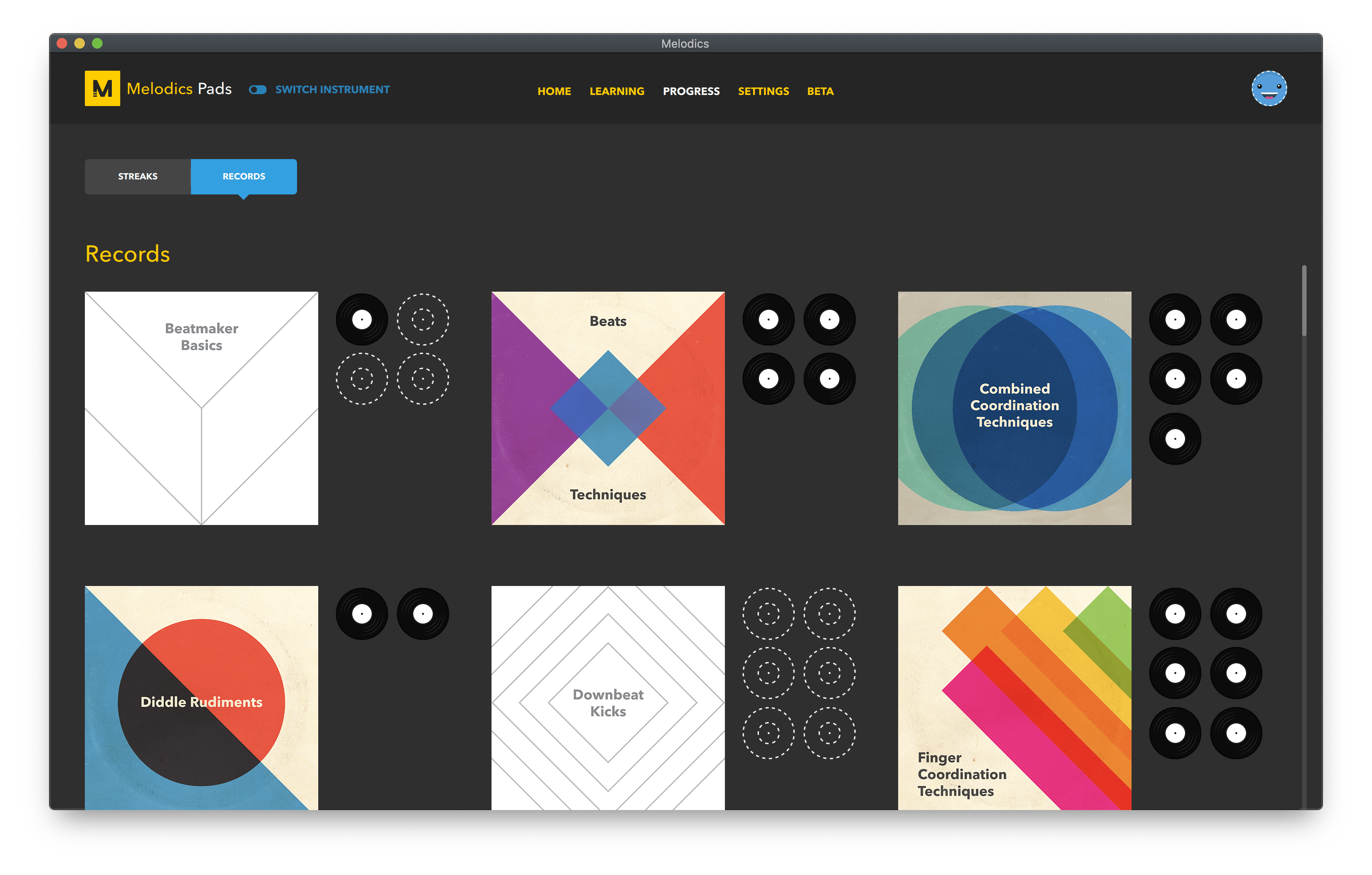 Track and measure your progress.
Records are your milestones of important musical accomplishments.
Completing different Record collections connects the dots between theory and practice, tracks your progress, and signifies your continued growth as a musician.
Uncover your repertoire and grow playing confidence.
Browse Records at any time in the Progress section to watch and learn with videos and explanations of musical concepts – or revisit what you already know!
Continue earning new Records for your collection as you discover new skills in context, and feel inspired to keep up the momentum of your musical journey.
---
Frequently Asked Questions
How do I find new Records?

You'll note that there is no search filter currently to find lessons containing Records.

Why? To make it worthwhile for you!

In a world where practice makes perfect, there's no fast-tracking your progress. Records are milestones which track and measure your growing musical ability — but not a roadmap to navigate by. To celebrate your success, we've made it so that Records acknowledge that your growth was hard earned, rather than easily found.

How do I view my Records?

To see all Melodics Records that you do have (and those you still need to collect), go to the 'Progress' section in the Melodics app and click on the 'Records' tab.

How do I collect Records?

Earning at least 2 stars on a lesson which contains a Record icon allows you to add it to your collection.

What am I learning when I practice?

Any time you use Melodics to practice, you're developing core skills like rhythm, timing, dexterity and training your muscle memory. But you're also always learning how music works simply by engaging: listening and playing along.

With Records, you complete the puzzle: actually explaining which specific tenets of music you've learned.

Records deliberately still follows a "learning by doing path" — you get context by performing and perfecting the lesson first prior to earning the Record and receiving an explanation.

Where/how do I learn actual musical concepts and theory?

Records are individual milestones of musical concepts and theories. When you browse Records (in the 'Progress' section of the app), you'll find explanations and video break-downs of each when you click any Record in the collection.

With Melodics, you'll still learn by doing. That's why you'll find Records spread across a variety of different lessons from countless genres, instruments and skill levels. To ensure you'll have a complete understanding.

Why do I care about collecting Records?

Each Record you earn for your collection is proof you have learned a recognisable musical skill, concept, theory or methodology which translates to real-life playing ability. Completing record collections is a testament of your continued musical progress, and a way to ensure your practice routine has purpose, and valuable outcomes.
---