Getting to your learning edge.
You probably breezed through some of the early lessons. It was fun - and then suddenly, it got really hard. With any new skill you're learning, you'll hit a point where you have to really work to progress.
The good news is that this is what you're looking for - that zone where you're operating at the edge of your abilities.
This is your "learning edge". It's the zone between too easy and too hard. That's where most of your learning happens. It's important to spend enough time at this learning edge, because this is where you make the most progress.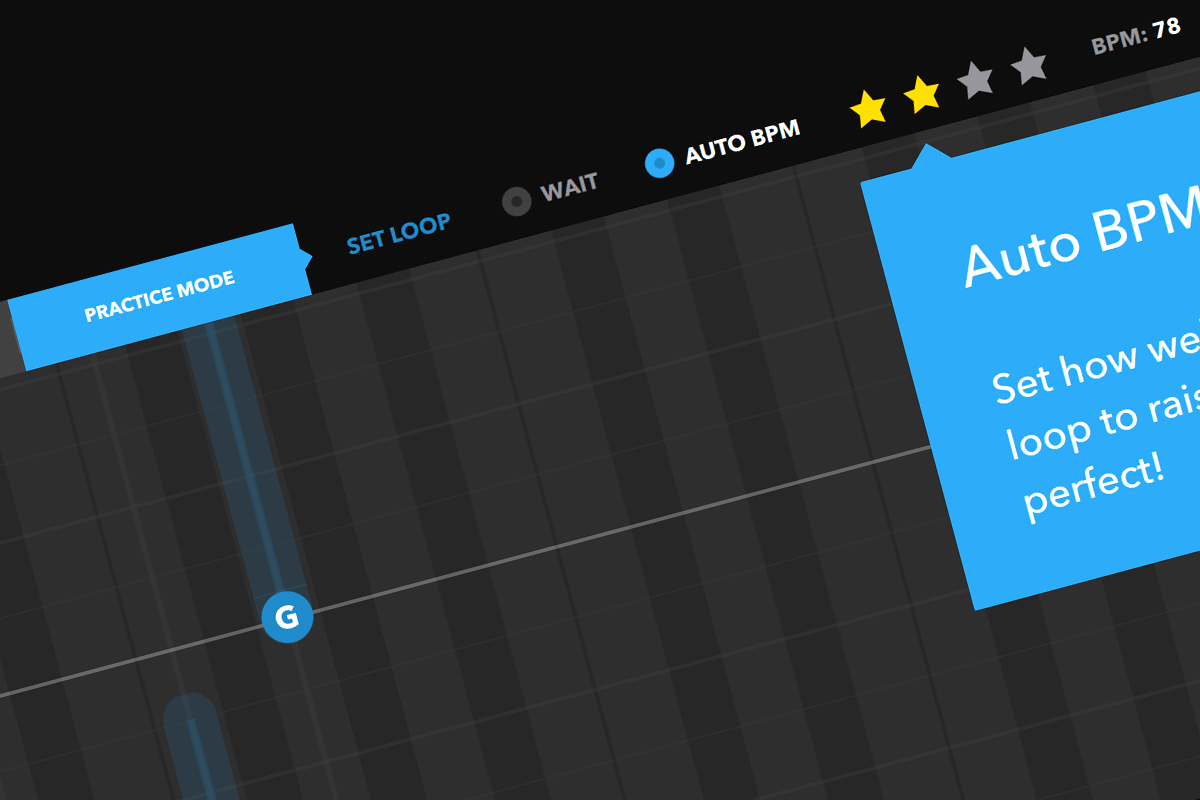 Find & fix your mistakes.
Melodics uses methods based on decades of solid research - a systematic approach that helps you find your mistakes, and fix them before they become ingrained.
The colour-coded visual feedback in Melodics identifies your weak spots, and tells you where you need to focus your attention. The Melodics AutoBPM feature helps you find the perfect tempo for your practice.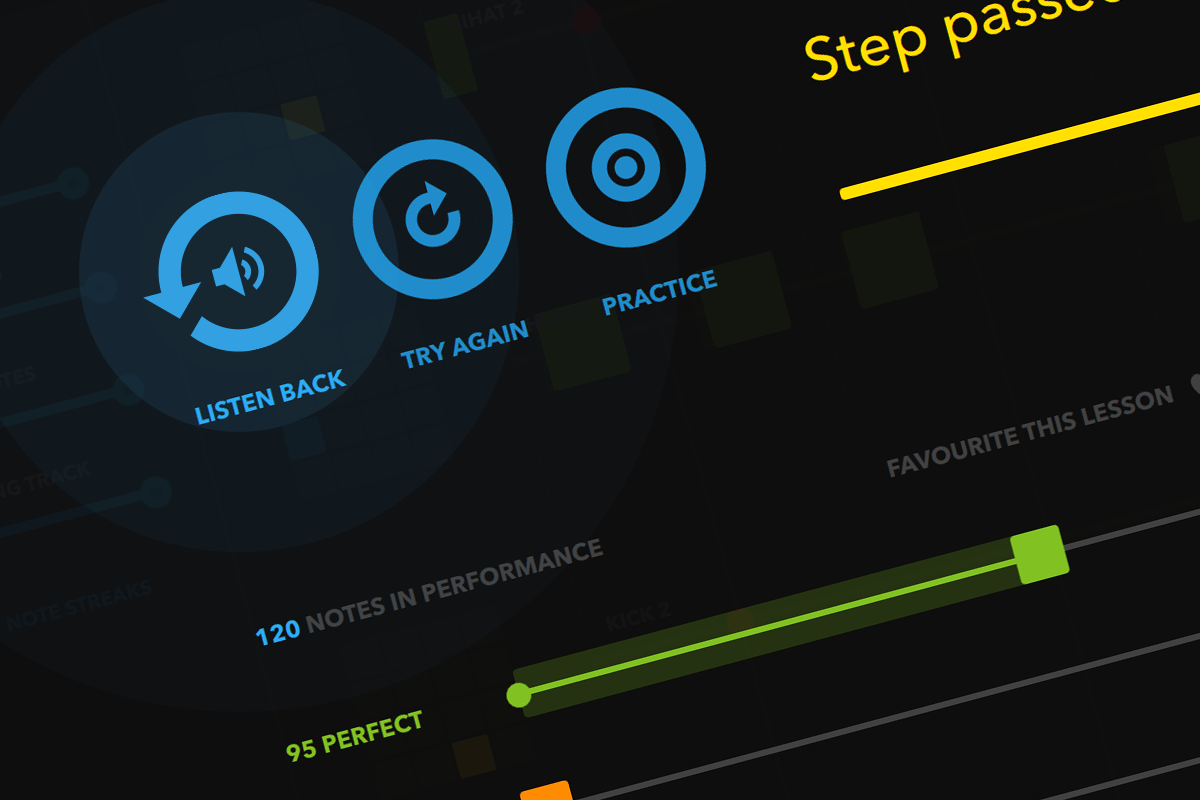 Review & repeat.
The scoring in Melodics can be pretty harsh, but wait until you meet your toughest critic – yourself.
Active listening is a superpower for musicians. Review your Melodics performances – is there anything you notice yourself as a listener that you may have missed while playing? Identify what you need to work on and quickly loop it up to get in those reps.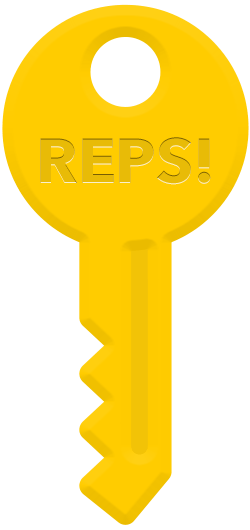 Repetition is key.
Melodics lessons are already broken down into steps, but you can take control of lessons by breaking them down even further. By looping the lesson into smaller chunks, you can work on parts you're having problems with, and get those reps in until you can't get it wrong.
Start slow, and build up to full speed. Slowing down your playing helps you focus, figure out where the mistakes are happening, and crack tricky problems.
Melodics™ gives you two great ways to slow down:
Reduce the tempo.
Find the speed that works for you, and once you're comfortable, use AutoBPM to gradually build up speed. AutoBPM will help you find the optimal tempo for your practice.
Use the "Wait" option.
Take your time and really concentrate on the physical movements. Melodics™ will wait for you to hit each drum or play each note.
These methods will help you to overcome even the hardest of challenges.
Take your time, put in the reps, and muscle memory will start to take over. Get in your 5 minutes of practice every day, and you'll be amazed by what you can achieve. Regular practice pays off quickly - what seemed impossible on your first attempt will become second nature.
---
FAQs
How do I develop good practice habits?

The only way to build your skills is practice, and the hardest part of practice is sticking with it. Make your practice sessions smaller and more focussed. You'll get better results if you do several short sessions rather than one long one.

Start a streak! Nothing like some skin in the game to motivate you to keep your practice schedule. Practicing for just five minutes every day will keep that streak going. Work out the best time of the day for you to practice. Keep everything set up and plugged in, it'll make it easy for you to sit down and get going straight away without having to set up your instrument.

How do I know what to practice?

The best place to start is in the guided path. The guided path is a structured map through Melodics courses to help you lay a solid foundation for you to build upon further.

Of course, you might like to work on something more specific. If you're finding finger independence hard or if you want to work on a particular skill, head to the lessons tab and use Melodics™ tags to find other related lessons and tailor your learning pathway.

You don't need to move through every lesson of every grade in alphabetical order. Move around and explore. Try genres that you haven't played before.

You should find lessons at your 'learning edge'. To find your limits, try attempting just the first step of a lesson at a high grade—see how far you can get before you hit your ceiling and identify what aspect that is. That will help focus your efforts on easier lessons with similar tags.

Should I 3 star every lesson? When should I move on to new lessons?

Once you've found a lesson at your 'learning edge', you should aim for perfection. While practicing the lesson, you'll be surprised at what skills you'll unintentionally discover. Moving on to something new too soon might mean you miss out on these valuable learning opportunities.

You can practice something new when you feel ready, but keep revisiting that lesson that you're striving for perfection on. You might find yourself playing three or four lessons at the same time, and that's okay. To dive deeper into this topic, read this article.

Melodics is fun! Am I learning?

At the core of Melodics is the belief that theory flows from music, rather than the reverse. Regular practice is the best way to learn and develop your skills. Find a lesson you were having real trouble learning a month or two ago—now play it again. Does that feel like progress to you?

While practicing with Melodics you'll be introduced to a vast range of musical concepts and theory, and how they relate to the wider world of music. To extend your Melodics learning we also have a dedicated resource area for learning how music works. Check this regularly for updates and new content weekly.

It feels like Melodics gets difficult quickly. Is it just me, or is this normal?

Everyone hits roadblocks. You might feel like you're making good progress but then reach something that feels totally out of your league. Learning an instrument isn't always a gradual increase in difficulty. Sometimes you have to change your strategy in order to jump up to the next level and practice with more focus.

Our practice tools are designed to help you develop your own strategies for practicing and passing that difficult lesson. Whether that is slowing it down, isolating difficult sections with loops or just getting a feel for the arrangement using Wait Mode. Make sure you consider your practice strategy before you write a lesson off as being too hard.
The fastest way to start playing.
Get free access to 60 free lessons for 5 performance minutes a day to start building your rhythm, timing, and muscle memory immediately.
When you're ready to expand your progress, subscribe to a plan to get unlimited access to play hundreds of songs, over 1500 lessons, courses, exercises and all premium practice features.
What hardware will you be using to play Melodics™?
---
---
Melodics™ works best with hardware.
You can play it with your computer keyboard, but it is a much better experience with access to a MIDI keyboard, pad controller, or MIDI drum kit.
---
Play as you learn!
These MIDI devices are connected: